Placencia wildside adventures
Placencia Wildside Adventures like many of the tours companies was created by a local of the Village. Our Tour company offers remarkable snorkeling, diving and Fishing Trips. Our Tour Guides are well training pleasant and informative. 
The Tour Company is headed by Guide and Captain, Conrad Villanueva Jr, son of a fisherman that loved to shared his experiences with others. It is 100% Belizean owned and staffed, touring with us brings your money to Belize and supports or local economy directly.
Our Tour Operator was created for those that want to avoid the commercialization of touring in Placencia.
We cater for small or private groups. Our shared tours have a maximum of 18 passengers on a boat, even though we are able to serve private groups up to as much as 48 passengers. Conrad and his crew has worked with the bigger companies for many years and saw the need for a more personal touch to tours.
And so it begun, now there is a tour company that would provide you with an affordable private tour catered to your groups need, whether its your significant other, your family, your friends, your co workers or even a group of random strangers that just met each other we will make a tour to suit your needs. A young company with years of experience in safety and customer satisfaction, let us show you the best of Belize.
Placencia Wildside Adventures is fully licensed and insured as per the laws of belize to execute tours by the Belize Tourism board.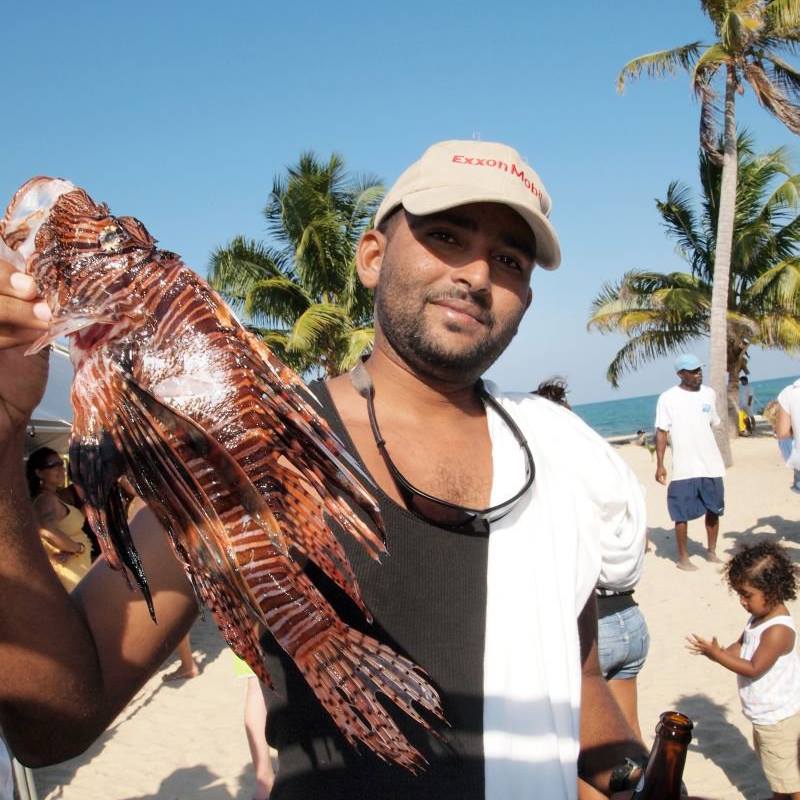 Conrad Villanueva
He owns the outfit but consider the other guides as his coworkers and not just employees, he has worked for many of the big tour companies in various destinations in Belize, including serving the cruise ships.

A Scuba Instructor, seasoned boat captain and a cool cat, he does his best to keep everything im line and give you the best experience possible. He has just one issue, he is always looking for ways to improve the experiences of his clients. Nicknamed "Kanni".

Meet our team of tour guides:
This calm fella will adjust to any crowd and would make your tour as enjoyable as possible, he loves to hunt lobsters, conch and spearfish, he is also a capable and expericed captain, but above all safety is his priority. Nicknamed "Garf" he is a cousin and childhood friend of Conrad.
This old timer is funny and entertaining and can bit raw at times, he does not like to be called by his name but prefers his nickname "Tulu" he is always ready to hit the water and "snorkel til you're pruny" as he says it. Tulu was once a commercial fisherman living his life at sea, but is also one of the first licensed guides in belize. He has seen most the transition of the tourism industry in belize.
Another cousin and childhood friend of Conrad he likes to fish, but he will also hunt lobsters for you and get a party started if that what you want. he likes to take it slow and make the tour memorable.
Just becoming of legal age to get his licenses, Julius is in training and aspiring to become a licensed guide and captain, he has experienced teachers to show him the way lets see where he takes it, you can meet jhim tagging along on tours or just helping with logistics.
Gareth is also a brother of conrad, and he's the fishing guy, we use him to get you fishing. Once a commercial fisherman gareth knows all the best fishing spots and keeps updating his skills and his equipment. He would however turn over the fly fishing tours to his friends Ian or Earl.
This hyperactive little guy will keep you laughing all day, he is gareth's first mate together they make a great fishing team and will give you a fun day of fishing and jokes.
Placencia Wildside Adventures offers a unique experience for people visiting Belize, by providing the best diving, snorkeling Tours and diving certifications.
On the Lagoon Side behind Lyda's Guesthouse.
Address: Main Road, Placencia,
Stann Creek District, Belize