and Other Tours: Fishing, Diving and Dive Courses, inland Trips.
Discover some of the best snorkeling spots Placencia has to offer. Our daily boat trips to Silk Cayes, Laughing Bird Caye, and other islands in Belize. Help us fight an infestation on the Coral Reefs, by going Lionfish Hunting. Other things to do in Placencia with us, are Fishing, Scuba Diving, and Dive Course.
Travel to Belize and see plenty of marine life: Eagle Rays, Sharks, Groupers, barracuda, and Turtles, Moray Eels, Parrot-fish, lobsters, seahorse along with brain coral, sea fans conch and other invertebrates. Many feeding on the seagrass beds in the shallow waters.
Join those who have snorkeled or dive these waters before and enjoyed a beach Barbeque for lunch with the crew of energetic guides.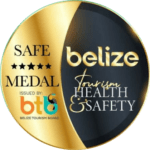 Tourism Health & Safety
Our tour company has been certified by the Belize Tourism Board, for the new health and safety standard. As of October 7th, we are open for business.
UnBelizeable diving and snorkeling Tour!
Things to do in Placencia
Along with fantastic snorkel tours, There are plenty of tours and activities to do in Placencia. At Placencia Wildside Adventures, we focus on what we think are the best things to do during your vacation. At our dive shop, learn to scuba dive with PADI. Enjoy the life of a diver and dive at many of the best dive sites in southern Belize.
Play a part in fighting the lionfish invasion. Our take a boat cruise upriver as you explore the Monkey River and Jungle. Mayan Ruins and Waterfall are some activities you can see as well.
Our tours are only good as they say it is, in the ratings below:
rcjayhawk

Akeem the Dream! Great trip with Akeem (sp?). Snorkeling trip out to Laughing Bird. Dolphins on the way out then the... read moreGreat trip with Akeem (sp?). Snorkeling trip out to Laughing Bird. Dolphins on the way out then the beautiful reef around Laughing Bird. Paradise!. Akeem was a great guide and pointed out a lot of things we would not have seen and added interesting facts we would not have known. Truly a great day in Belize.
Thanks - 8/20/2021

MEGANG653

BOAT RIDE FROM HELL DO NOT BOOK HERE!!! Our lives were in danger. We got there and Conrad barely said two words to us,... read moreDO NOT BOOK HERE!!! Our lives were in danger. We got there and Conrad barely said two words to us, and then the guide Elon showed up in a tiny fiberglass boat. We should have just passed right then. We didn't have life jackets, and no helpful info about snorkeling tips or how to put on gear. We got in the boat and almost immediately out of the lagoon the boat was going super fast and slamming down hard over waves so much that I started crying and screaming. I kept saying "I don't want to do this" and "NO! I want to go back!" And he ignored it completely and kept going!!!

Captain 101 - if a guest is screaming and terrified and saying OH MY GOD each time their body is slammed to the water on a fiberglass boat that seems like it's about to Crack, YOU STOP! I almost passed out from the sheer terror I felt. I couldn't tell the man how absolutely angry and furious I was because my life was in his hands and we eventually would have to go back. Elon just wanted his money, and I honestly was just happy to be alive after an hour of this pain and terror.

So I did a half Snorkel after getting stung by a baby jelly (with no instruction other than what I could remember when I was 16 snorkeling in Key West) so I quickly told my husband to swim horizontally and do not touch the coral. No respect for the reef either as he kept disturbing their habitat and lifting out sea creatures to show us which I had no interest in. Elon's response when I said I think I was stung and I see jellyfish was "its not jellyfish season, no jellies out here." I decided to take charge of my safety and be done. I separated from them after he didn't seem to care I said I wanted to go back because my leg started burning.

At shore, two men working at Moho Caye found me a cup of vinegar to pour on my leg and agreed it was from the baby jellies I was seeing. After, Elon and my husband were found standing in a bed of seaweed and he didn't instruct him how to walk in his flippers so my husband felt stuck. He recently hurt his knee so he was not sure how to go forward and almost walked into red coral!! I had to guide him out and show him how to point his feet. Conrad his boss just took some money off since he eventually came to the Caye too. Again I didn't feel comfortable expressing my true feelings and putting my life in danger in a foreign country so I let my husband do the talking which they responded to better anyway.

The other boat guide from another company reassured us the way back would be smooth
now that the caps weren't so huge coming from the east. Not our own guide of course. Just
despicable. Horrendous and a nightmare. Didn't
even get to see the Turtles because the caye we
had to stop at to get off the ride from hell didn't
have them. Just a sad bleached reef and a few
fish. My back is bruised even two days later (picture included) from slamming so hard on the wood bar of their fiberglass boat and I have severe muscular and spinal pain. Shame on Conrad for not calling this off with the high wind and shame on Elon for not turning around when a woman is screaming and crying for dear life. Such a traumatic experience and waste of a day since I just wanted to see a sea turtle, not be tortured. Should have known when our resort said they had never heard of them.. Take your money elsewhere. DO NOT BOOK HERE! - 8/10/2021

H565GQjenniferb

Fishing and snorkeling! Jamie and Orlando picked us up from our dock and we