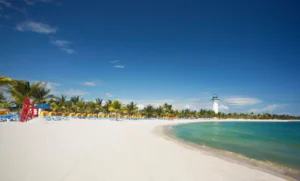 Cruise passengers visiting Harvest Caye, a stunning beach destination near Placencia, can expect an unforgettable experience. Owned by Norwegian Cruise Line (NCL), this tropical oasis offers a variety of amenities and activities to cater to every guest's preferences.
Upon disembarking from the ship, passengers are greeted by a picturesque pool area complete with lounge chairs and a swim-up bar, where they can relax and soak up the Caribbean sun. The beach area provides ample space for swimming and enjoying the crystal-clear waters, while palm trees offer shade for those seeking a respite from the sun.
For adventure seekers, a zip line experience awaits at the lighthouse, providing breathtaking views of the surrounding area. Nature enthusiasts can explore a wildlife sanctuary, spotting animals such as butterflies and local wildlife.
A shopping village offers an array of shops, perfect for picking up souvenirs like t-shirts and seashells. Guests can also indulge in delectable cuisine at the various restaurants and grab refreshing drinks at the bars scattered throughout the port.
Harvest Caye serves as a gateway to numerous shore excursions, including visits to ancient ruins, kayaking through mangroves, or embarking on a thrilling zipline adventure. Those seeking relaxation can rent cabanas and enjoy the serene atmosphere by the pool or along the shore.
Local businesses in the area cater to the needs of cruise passengers, providing transportation services, answering any questions, and ensuring a seamless experience. The government and cruise lines work together to maintain the facilities, keeping the port clean, safe, and welcoming for visitors.
With its idyllic location, Harvest Caye is a prime destination for cruise passengers looking to immerse themselves in the natural beauty and vibrant culture of the Caribbean. The itineraries offer plenty of options for exploration, whether it's discovering the region's rich history, engaging in water activities, or simply enjoying the amenities and amenities provided.
Harvest Caye truly captures the essence of a tropical paradise, combining stunning beaches, lush rainforests, and an abundance of wildlife. It's a destination that caters to people of all ages, ensuring an unforgettable trip for families, couples, and solo travelers alike.